I'm so cool, I have my own fan thread :p
🔥 Contributing Member 🔥
Joined

16 November 2007
Messages

4,118
Reaction score

0
Points

0
Location
Country
I've recently installed a twin electric fan setup on my S15 so thought I would share some information about it.
Originally I used a Revotec Fan Controller to control the coolant temperature, but after doing a bit of research it seems there is a more efficient, more reliable and simpler way of controlling the water temperature. The standard cooling system comprises of a viscous fan with plastic shroud and a single electric fan hidden inside the shroud.
The single electric fan is controlled by the ECU which recieves a temperature reading from a temperature sensor in the cooling system. On the standard S15 ECU the electric fan is set to cut in when the coolant reaches 95C and cut out once the coolant temperature has reduced to 90C. If you have an Apexi Power FC I believe these temperatures are reduced to 90C and 85C. Both systems keep the coolant within a 5C range unless you are cruising at high speed when the temperature will probably reduce to the mid-low 80's (effectively controlled by the thermostat) due to the natural airflow through the rad. The standard electric fan also cuts in when the A/C compressor clutch is engaged.
The Revotec control unit is a good bit of kit, but there have been numerous reports of failure on SXOC and the unit is only capable of controlling the temp within a 10C range (ie. cut in at 95C and off at 85C), which is twice that of the ECU controlled system. Also, there is obviously no provision for the fans to cut in when the A/C system is engaged.
Therefore I devised a very simple system that utilises the standard ECU fan control, but is also able to power a higher ampere twin fan setup safely (see diagram below). It is necessary to use a relay in the system as the twin fans will draw more current than the original single fan and would probably blow the fuse. Most aftermarket fans are around 80W each, which works out at 18A for the pair. It is important to use a relay and wiring etc. suitable for the job, so I used a 30A setup to be safe, with a fuse incorporated into the relay.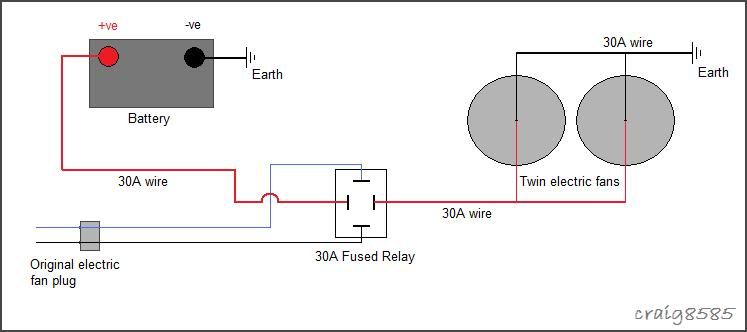 Hope this helps guys. It will also save you buying a Revotec controller
If there are any points I have missed out, please add them below. I'll add some pics up as soon as I can too.