Joined

1 December 2012
Messages

21
Reaction score

0
Points

0
Location
Country
Dear Forum Members,
Unfortunately it is a fact that a lot of imported Japanese vehicles sold in car yards
do not
have the correct odometer reading. Winding back odometers ("clocking") is widespread in grey imports.
This issue can be addressed as we offer a new tool for current and prospective owners of Japanese imports:
We can provide you with an
official registration document with certified odometer readings from the Japanese Bureau of Traffic.
This watermarked document states the odometer reading of your vehicle at the time of the last two registrations. You simply provide us with the VIN number and we will retrieve and send the document to you.
In Japan, cars have to be registered every two years. Part of the inspection is an odometer check and the odometer reading is recorded together with the owner details.
Here is an example of a Mazda RX7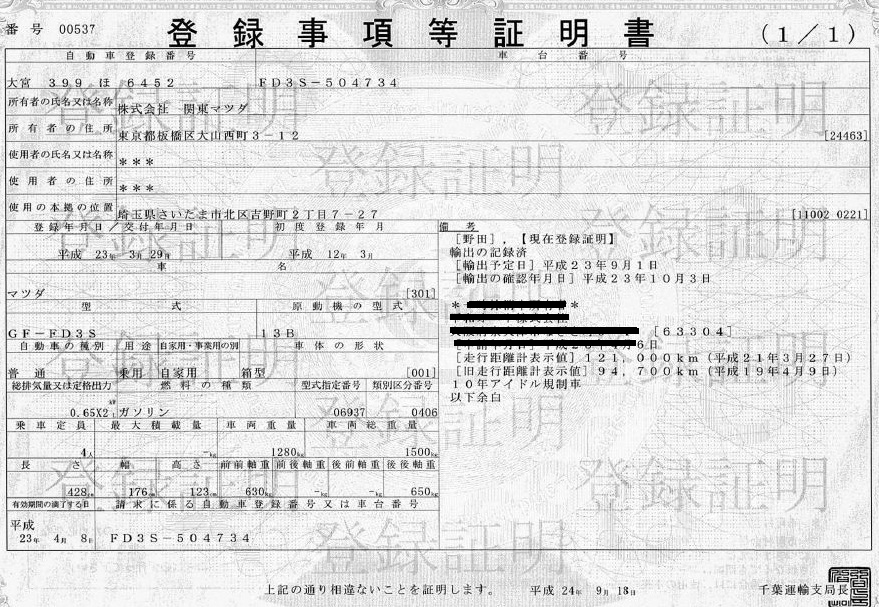 and this is the translation we do for you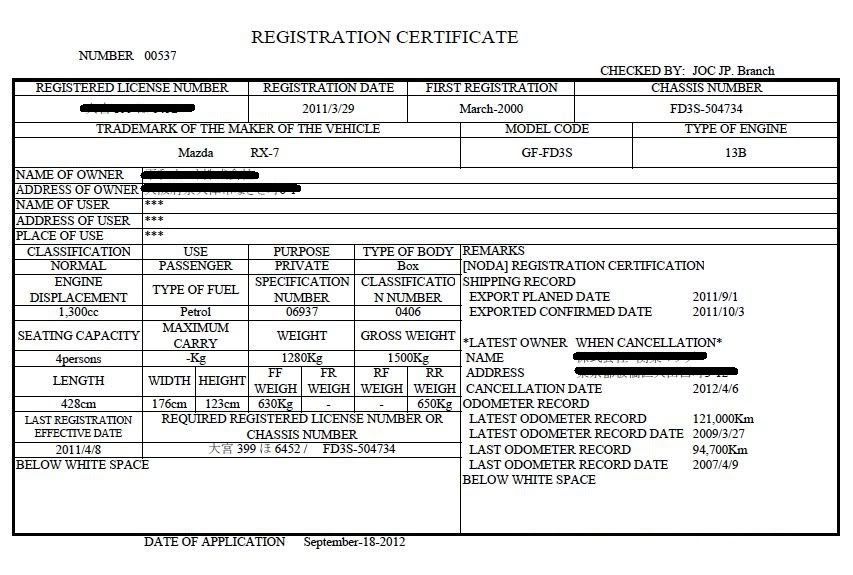 These documents have helped customers re-negotiating prices, getting refunds or simply plan the focus of the next service.The truth is out there!
You can order pre-purchase checks, where a speedy processing is needed as you are looking at buying a vehicle. You simply provide us with the VIN number and we will retrieve and send the document to you. Additional to the hard copy by airmail we will send you a PDF via email within 5 working days from date of purchase. The pre-purchase check is normally £59 (including postage, handling and translation), we will offer this check to forum members for the next three days (closing Wednesday, Dec. 19, 8pm) for only £25.
Payment is by Paypal to
japaneseodometercheck@gmail.com
.
Please also check our feedback on ebay...
http://www.ebay.com.au/sch/japaneseoc/m.html?_nkw=&_armrs=1&_from=&_ipg=&_trksid=p3686
and the following forums:
http://www.fdrx7.com/
http://www.delicaclub.com
http://elgrand.ning.com
http://www.elgrand.co.uk
http://www.nissanelgrand.com.au
Our customers are 100% happy with this service.
Best Regards and MERRY CHRISTMAS!
JOC