Joined

2 October 2015
Messages

401
Reaction score

0
Points

18
Location
Website
Country
Instagram
Hello! So, a quick intro - I'm Esta (EJ) and I live in Stoke on Trent.
I am now the proud owner of this lovely S15 Spec R Aero! (I've named her Yuki)
Ive always loved 90s Jap cars and a few years ago I purchased a Mitsi FTO GPX for my daily driver. Unfortunately my commute went from 80 to 180 miles a day so my FTO had to go and a sensible diseasal was purchased.
As fab as my daily is, Im not a hatch back girl at all, so I gave my sensible head the middle finger and decided to get a weekend car all for myself
I had 3 cars in mind, R33 GTR V-Spec, Supra RZ and of course the S15. TBH the interiors of the Skyline and the Supra do NOTHING for me, whereas the Silvia ticked every box, I personally think they are beautiful and I love the interiors!
So, thats when I got in touch with Torque GT, and I asked them to find me a suitable specced car in Japan (always wanted to find my own fresh import!) So long as it was a high grade and in red, white or yellow with fairly low miles I would be happy - I missed out initially on a red one, but then I was quickly found a stunning white one, which in all fairness was probably the better thing for me cus 99% of my cars have been red haha!
Anyway here she is as I picked her up finally from Torque GT yesterday morning! In the 4 months to sort I'd managed not to tell any of my friends so it was a "ta-da" photo for Facebook so excuse the silly pose lol!
It was also horrible weather yesterday, couldn't have picked a worse day, high winds and probably the heaviest rain I've ever driven in, so today as it's looking like a bright day I will be cleaning her up and hopefully later will have some lovely photos to share with you all! I really am impressed with her, looks and performance, I had never driven an S15 and yesterdays several hundred miles in her gave me the biggest smile ever
Here's a pic of her visiting my brother in Somerset on the way home from Torque GT, he has the Cappuccino, and the husbands M3 that took me to fetch her
She's parked on the flattest part I could safely leave her haha!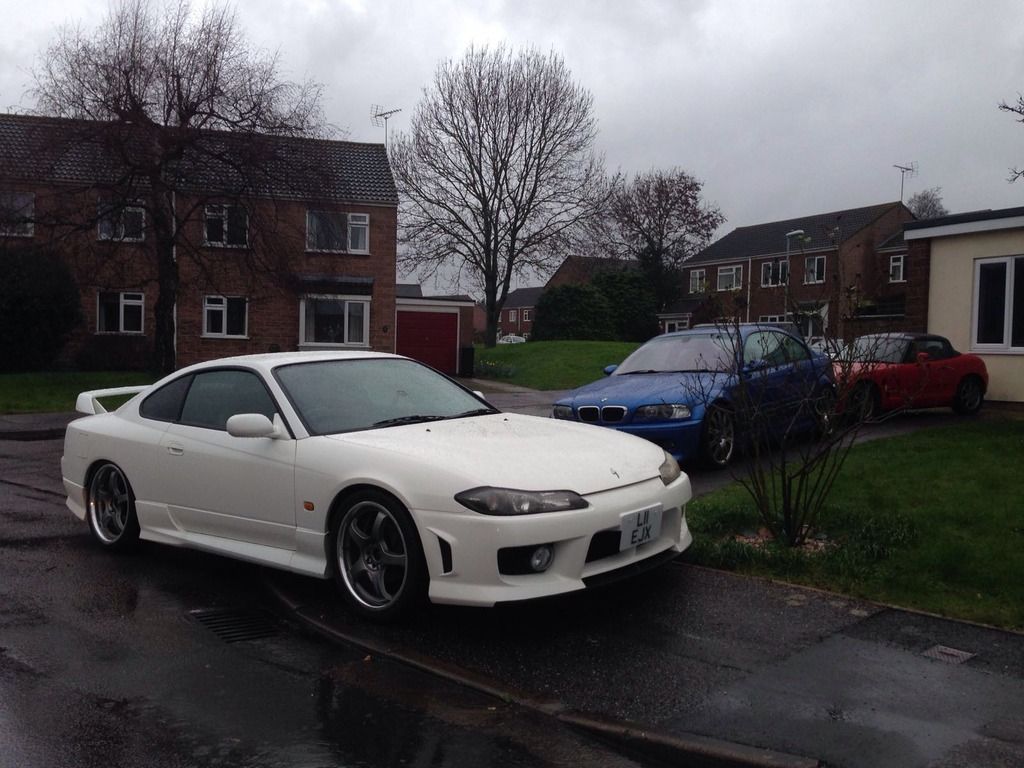 A bit about her:
She was bought with 80K miles on the clock, grade 4B and the following options:
HIDs (factory)
RAYs gramlights 57 Pro 2004MY 18" alloys
BC coilovers (apparently like new)
1 Recaro seat
Wind deflectors (factory)
Apex Exhaust
Currently I have a list as long as my arm of things I will be doing to this car, I love putting my own mark on my cars; but as a second car, and one I intend to keep till I die, it will all be done over a long period of time - Ill keep this post updated!
Anyway thats a hell of an intro so sorry for the rambling! Hopefully meet some of you at some events or meets in the future! Stoke people be sure to let me know if there is anything local happening
Yuki's build list!
CAME WITH
* Blitz MSTT
* HIDs (factory)
* RAYs gramlights 57 Pro 2004MY 18" alloys
* BC coilovers (apparently like new)
* 1 Recaro seat
* Wind deflectors (factory)
* Apex Exhaust & bung/muffler
* Aftermarket front anti roll bar (brand currently unknown, green)
* Aftermarket rear anti roll bar (brand currently unknown, green)
* JIC Magic front strut brace
*****
FITTED
* HKS SSQV4 BOV - dumping to atmosphere...Feb 2016
* Tegiwa coilover socks...Feb 2016
* Apex muffler removed...Feb 2016
* DC2 Recaro front seats...Feb 2016 *REMOVED Jun 17 (Too large imo for S15 interior)
* Toad AI606 + exterior proxy...Feb 2016
* Custom carbon fibre effect gear gaiter with red stitching...Mar 2016
* Momo Quark Red steering wheel and HKB Boss...Apr 2016
* Calipers painted blue...Apr 2016
* Wheels refurbed (polished with candy red spokes)...Apr 2016
* Engine Torque Damper...Apr 2016 *REMOVED - rattled like fook
* Japspeed downpipe...Jul 18
* Japspeed sports cat...Jul 18
* Japspeed turbo elbow...Jul 18
* Copper turbo gaskets...Jul 18
* HEL turbo braided lines (all 3)...Jul 18
Last edited: