Full set of Nismo S-Tune shocks and springs (Blue & Yellow variants) which came of my S15 when i bought her. (Pics will be up at the weekend) -
No leaks or knocks at all £250 ovno

NOT THE ACTUAL SETUP, but exactly like this, and admittedly not as clean. Will get pics up at the weekend.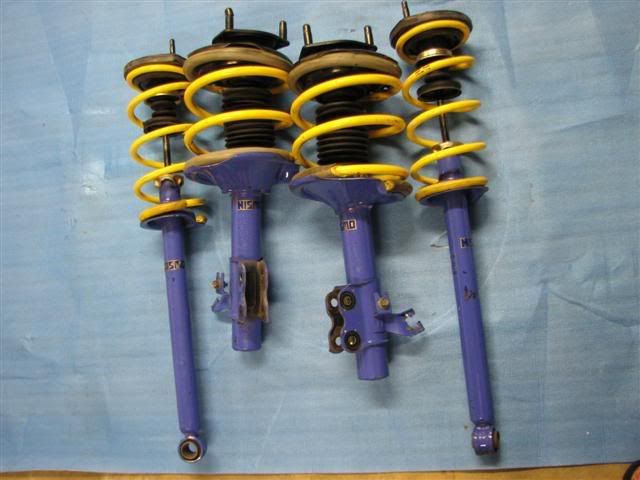 I've driven tonnes of S bodies with various suspension setups, but this without fail is
one of the best fast road setups you can get
. The valving on the dampers feels perfect for B roads / Town and responds well to continuously varying surfaces.
I initially bought a set of Aragosta's for the S15 as i only wanted the best for it, however since being offered a drive in the BDC, i pulled them off and put them on my S14. Having fitted the old DW CS1's to the S15, i was genuinely debating on switching back to the Nismo's as the performance of the CS1's on fast road is shocking :| However as the season is drawing to an end, the 14 is going to be re-shelled into the 15, so the Nismo's are surplus to requirement.
I also have a set of standard shocks with
Apex springs
(not APEX performance)
30mm drop Appox
- The springs retail new at £130~ No leaks or knocks. A
lready fitted to shocks £100
- Cannot comment on the performance of these as i've never driven on them.
All prices are collected at SM2 or CV37, however can meet within reasons between South London and Midlands, or postage can be arranged.
Pics of all suspension will be up at the weekend.
Best contact would be to ring/message 0-77 5120 3302 or dylan0611atGmail.com
Last edited: