Hi Guys,
Just thought I'd introduce myself. My name is Juliette and I'm SR2O's other half, and I also love S15's. My car of choice though started out as a grandma-spec slug, 30000000 miles off the ground, hubcaps, a few dents, very plain looking and VERY slow. It ran a PB of a 19.2 second quarter mile - yes, it was was that SLOW.
In the 3+ years I've owned it however it's taken on a slightly different guise, and around the start of next year will have a race auto built for it, bigger turbo, bigger injectors, aftermarket engine management and a new paint job.
Here are some old photos. The car has been off the road for over 3 months now...it destroys transmissions for breakfast (or in real world terms - every 1,500km.) It also has a fairly irritating idle and like to stall when backing off throttle, which I will attempt to fix when it is back on the road reliably. So far it has been entered in one car show and walked away with Most Power in a FWD Forced Induction car, I hope to actually make it worthy of that title at some stage. I'm chasing 200fwkw, at which point I think it would be a good number to stop at. I also have a Skyline, but it's not really that interesting. Look forward to speaking to everyone
Car Details:
Polar White '98 Nissan N15 Pulsar Series 1 LX Sedan (Turbo)
Performance Modifications:
*Engine/Driveline:
- Avenir PNW10 SR20DET conversion from stock GA16DE, custom wiring harness & new SR20DE engine mounts. Running standard boost, standard Avenir Auto ECU, retaining Air-Con. Rocker Cover sprayed Blue.
- Pulsar N14 JDM SR18DE Auto Transmission with VLSD.
- Aftermarket Auto Transmission Cooler.
- 600x300x76 Hybrid Copy Front Mount Intercooler, custom Stainless Steel piping
- Go Fast Bits StealthFX BOV (Black)
- Custom Pod Box with K&N POD Filter, Battery Tray moved elsewhere in engine bay to suit.
- 3" full Stainless Steel Exhaust, Hi-Flow Cat, Stainless Steel Sports Muffler with Droopy Chrome Tip.
Handling Modifications:
*Suspension:
- Tein Super Street Coilovers with Pillow-Ball Upper Mounts.
- Tein Electronic Damper Force Control on each corner.
- Whiteline Blade Adjustable Rear Swaybar
- Whiteline Adjustable Front Strut Brace (Chrome)
- Whiteline Front Swaybar D-Bushes.
- Whiteline Front Swaybar End-link Bushes.
- B14 Sentra/200sx Adjustable Rear Strut Brace (Chrome)
*Front Brakes:
- GTiR Front Calipers (AD22VF) sprayed gold.
- Bendix Advance Brake Pads.
- DBA Slotted Rotors.
Other Modifications:
*Body:
- N15 S1 SSS Front Bumper (middle insert cut out for FMIC) with black aluminum mesh in brake ducts.
- Topstage S1 Lip.
- ASV N15 (VZ-R Copy) Side Skirts.
- ASV N15 (VZ-R Copy) Sedan Rear Pods molded into re-sprayed rear bumper.
- Suborn N15 grille with black aluminum mesh.
- Newstyle Eyelids
- Custom N15 Two Stripe Black Decals
*Rice/Interior:
- 1Kg Dry Chemical Fire Extinguisher in passenger footwell.
- Auto Gauge Defi-style black-face Boost, Water Temp. & Oil Temp gauges mounted in DIN spot under Air-Con/Heater Controls.
- Aluminum pedals with rubber inserts.
- Blue/Green EL Dials.
- Black Recaro style front reclining racing seats with custom rails.
- Back seat & all door cards fully re-trimmed in black mesh material (to match front racing seats.)
- Grey front and rear floor mats.
- Pair of blue Las Vegas fluffy dice on the parcel shelf.
*Wheels, Tyres & Rear Brakes:
- Advanti Racing 'Striker' 17x7.0" in Light Bronze .
- Chrome locknuts .
- Hankook 'Ventus Sport' 205/40/R17 silica compound tyres with rim protectors.
- Black-painted rear drum covers.
*Lights:
- Genuine S1 N15 SSS Foglights and Switch.
- Genuine S2 N15 SSS black surround crystal Headlights.
- Genuine S2 N15 SSS Front Indicators (clear-modified with chrome/amber globes.)
- Genuine S2 N15 crystal Tail Lights.
- Clear Side Indicators (Repeaters) with amber flashing silver-painted globes.
- Blue/White Headlight globes.
- White LED parker globes.
- Narva 'Plus 30' foglight globes.
*Windows:
- 20% tinted rear windscreen, rear quarter windows and rear side windows and 35% (darkest legal) tinted front side windows .
*Stickers/Plates:
- Slimline mid blue 'PULSER' number plates with front protector.
- P Plate sticker on rear windscreen.
- De-stickered and de-badged boot.
Audio Details:
*Headunit:
- Clarion DXZ656MP
*Front Speakers:
- Pioneer 6" 4 Way mounted behind stock door pods.
*Rear Speakers:
- Pioneer 6x9" 3 Way mounted flush with rear parcel shelf.
Other:
*Optional Nissan Parts:
- Driver's Airbag.
*Alarm:
- Viper Paging Alarm with Remote Start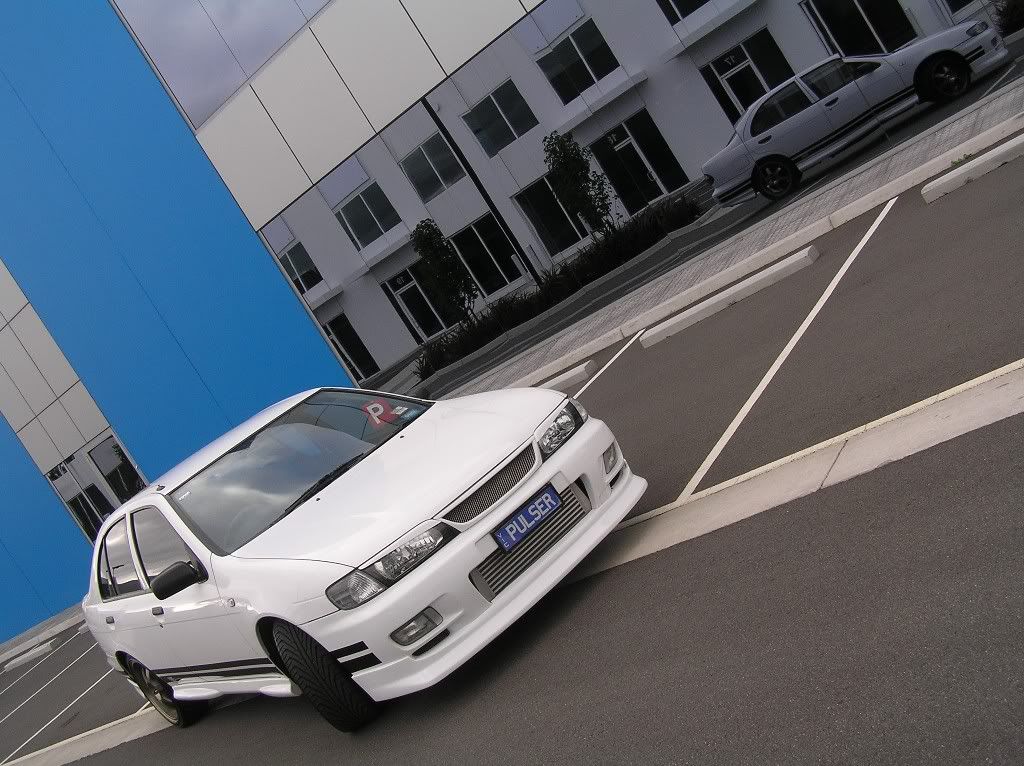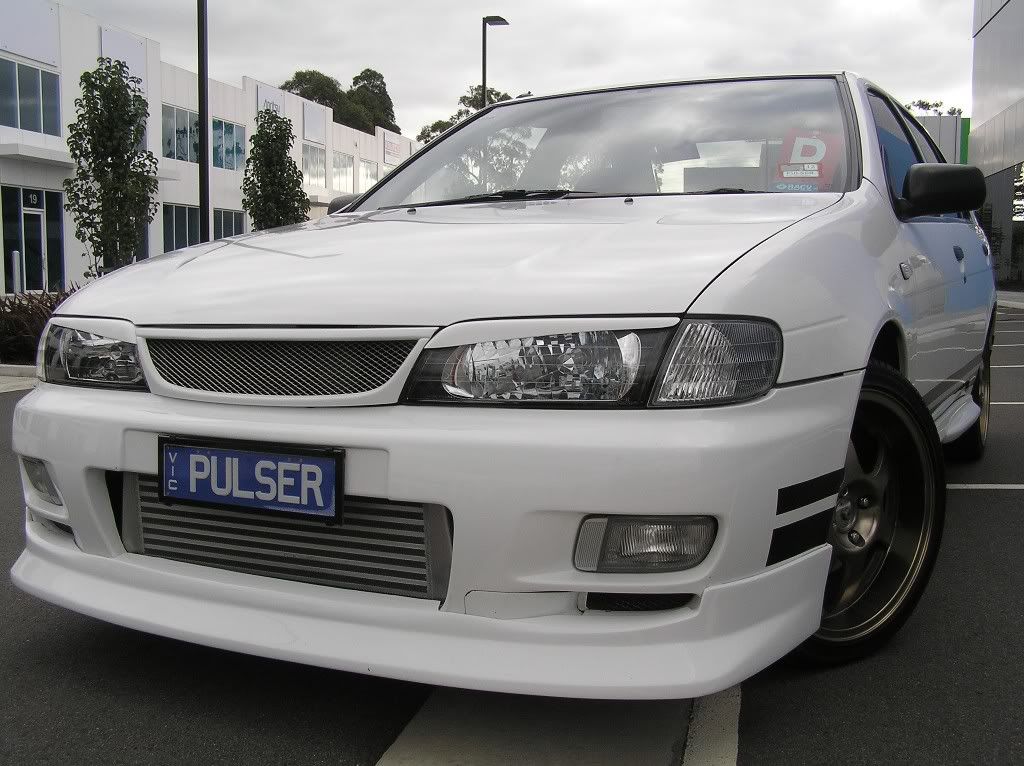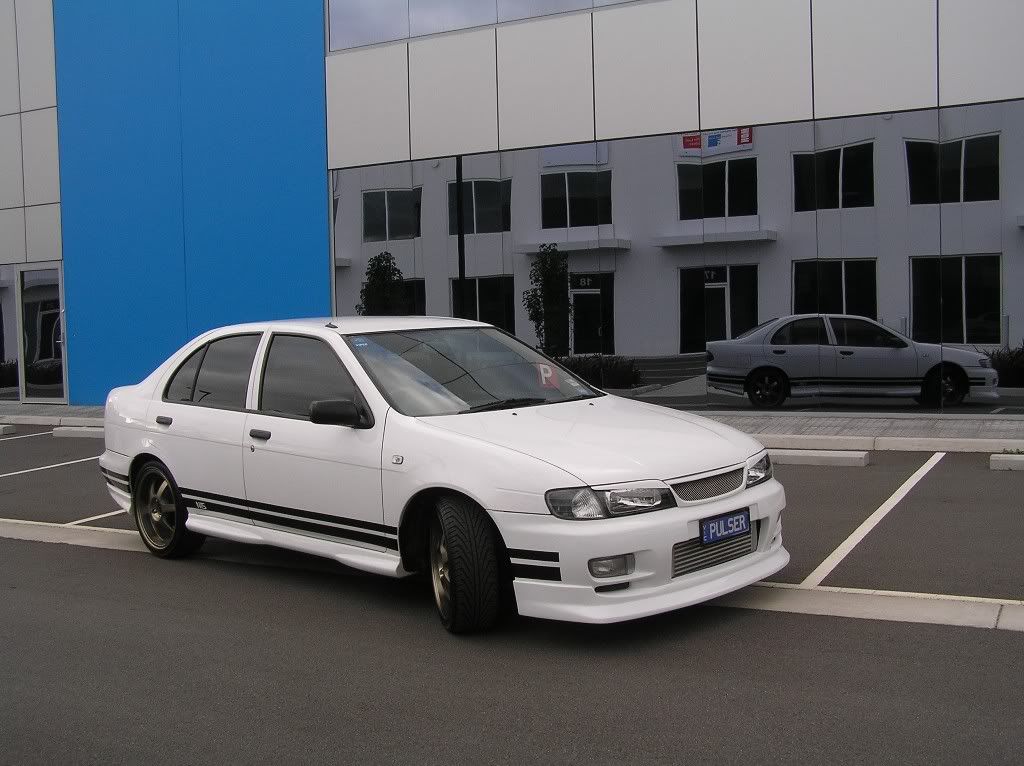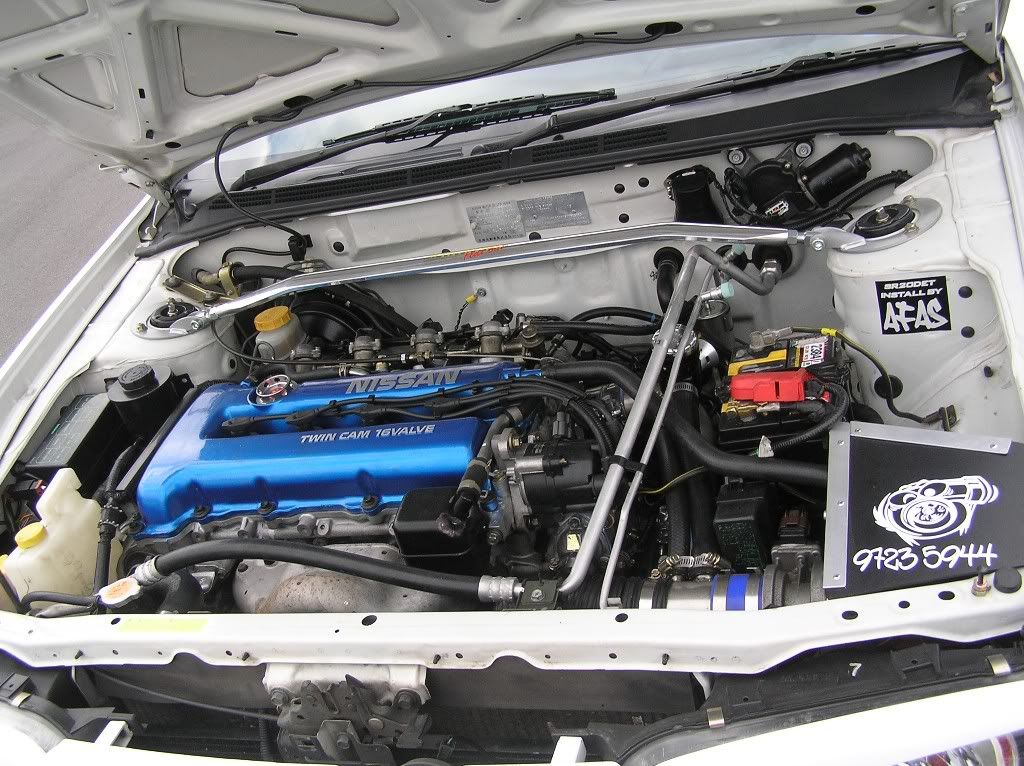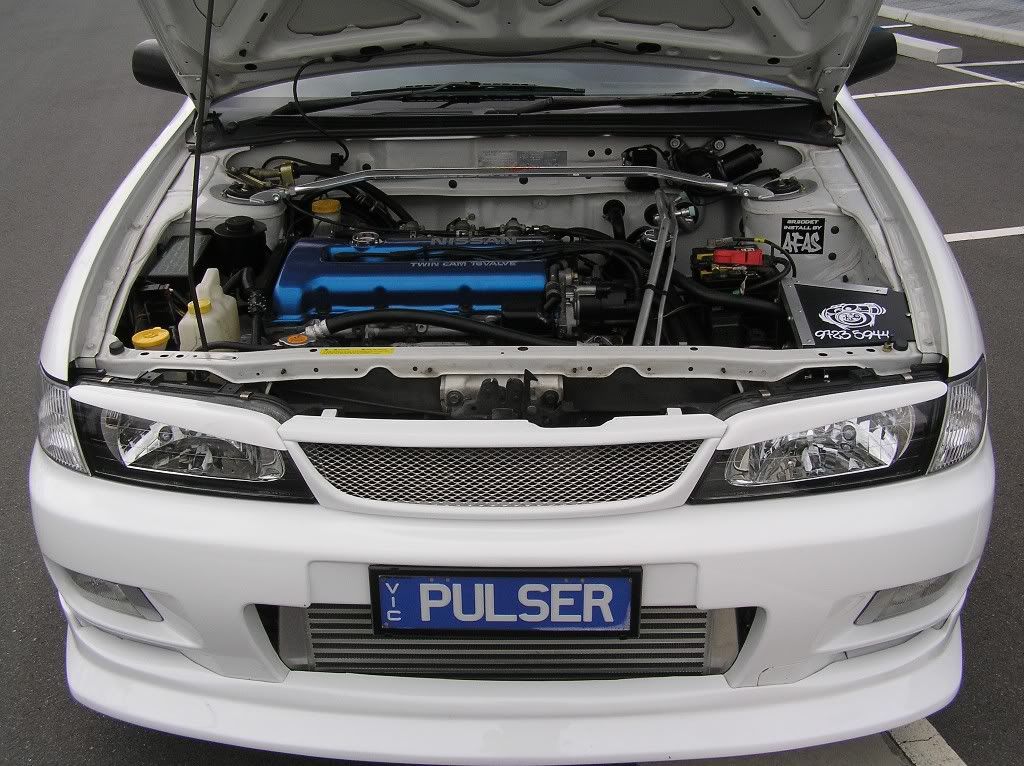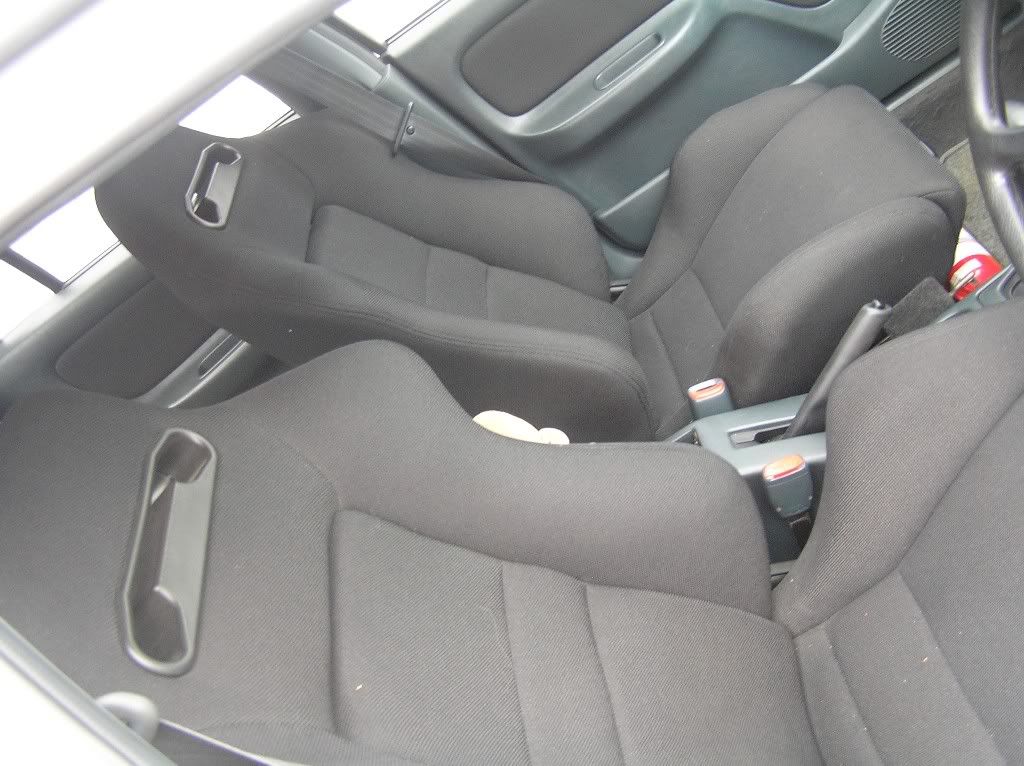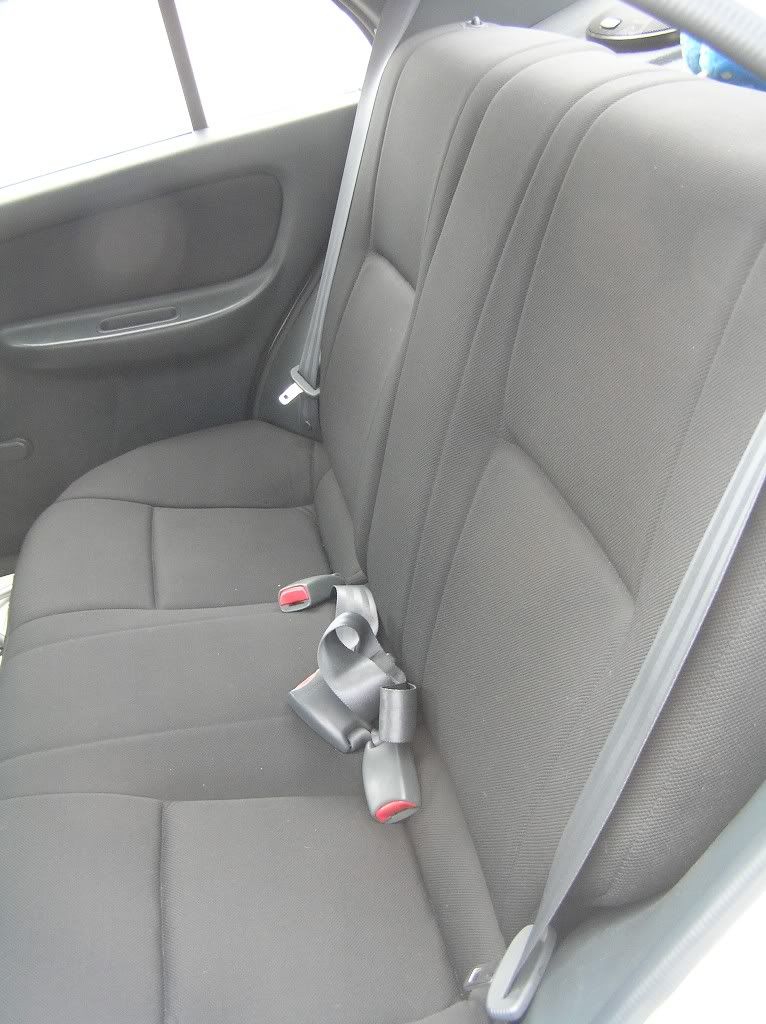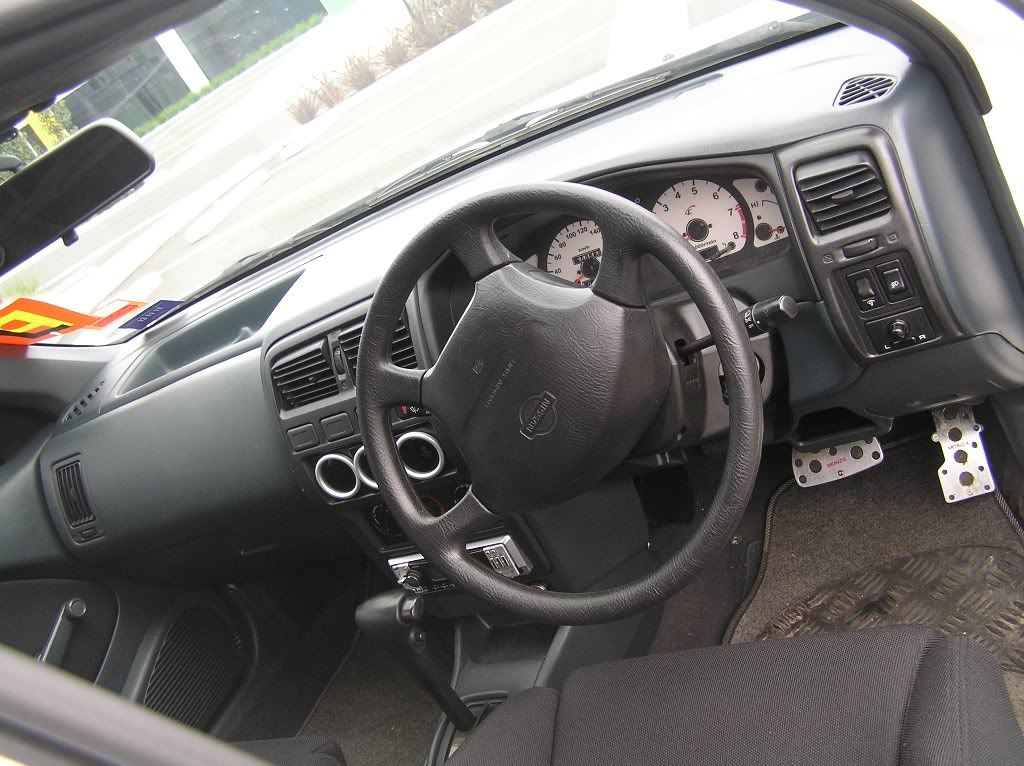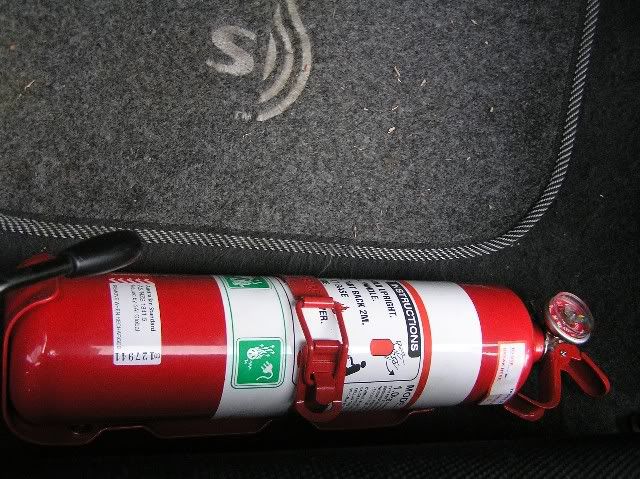 [/i]