Joined

1 January 2012
Messages

380
Reaction score

0
Points

0
Location
Country
Right, build thread time. This is my second spec S with an sr20det swap (same colour and similar body kit too. Creepy). I had to get rid of the last one because I ruined the engine and was in a tricky situation of needing to move cities about 3 times in the upcoming months (I'm in the RNZAF. Just to clear things up) so I didn't have a chance to hold onto it and fix it. This is my new baby and this will be my log of mods basically. My priorities for this build are as follows:
1.
Safety and roadworthiness - Fully legal as of now
2. Reliability (oil system, cooling)
3. Handling and rigidity
- part way done
4. Cosmetics (My style ideals are clean, smooth, sleek, not in-your-face)
5. Power!!!!!
I advise anyone thinking of modding ANY vehicle to follow these priorities. If you screw up the order, you'll likely have to go back and fix things you missed or pay for it in loss of life, limbs or money. Do it.
Of course, I don't actually speak from experience because not only is this project/build to make something awesome, it's to prove to myself that I can do these sorts of things on my own. I've never changed a cars oil. Ever. That's how little knowledge I have. The only thing on my side is my meticulous researching abilities so I've got a lot planned out in my head.
Anyway, to the pictures...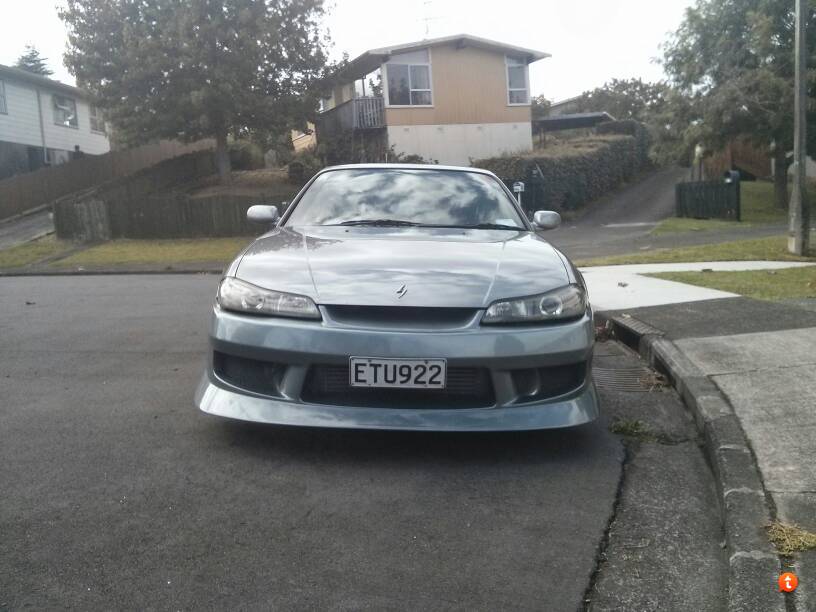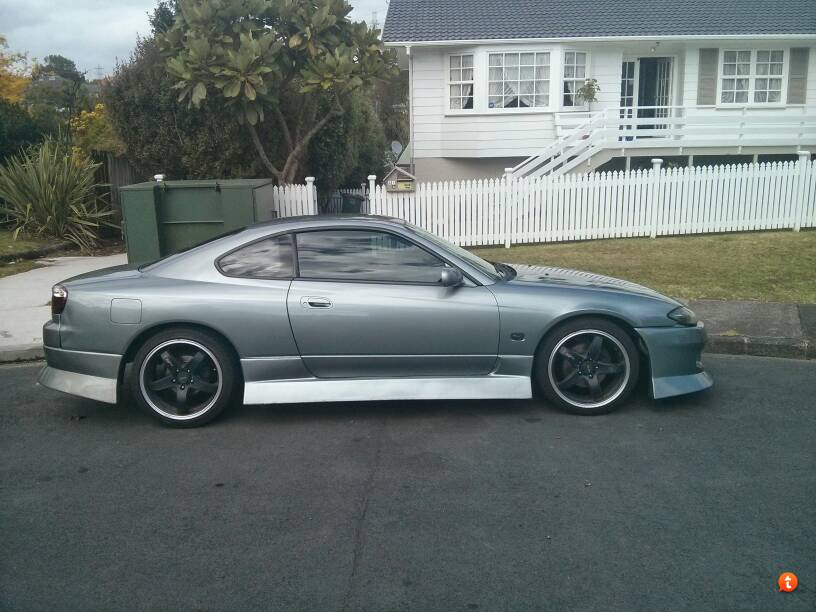 Things I bought it with:
- Sr20det (with no engineering certification. Knob)
- Ugly wheels
- Window tints (legal. Plus points)
- Body kit (unknown. Cheap fibreglass one but I like it)
- Hid headlights (kits are illegal here so they've been thrown out)
- 3 inch, I think, catback
- de-cat pipe (nice surprise)
- FMIC
- A disgusting black roof spoiler that was obviously glued on by a 3 year old. I'm still picking bits of silicon sealer off the rear window
- lowering springs
Things I've done so far before making this thread:
- New speakers all around
- Tidied up and thrown out a few things under the hood
- Ripped out all the carpet in the boot to get ready for battery relocation. And weight saving.
- Taillights
- Ripped off rear wiper
- Debadged all around (except the bonnet)
- tinted side indicators
- A-pillar gauge mount fitted (no gauge though yet. Looks stupid without one)
- Walbro in-tank fuel pump
- Moonface Gearknob
Wishlist (Bold Completed):
-
Fit skyline brakes
-
Rear camber
and toe arms fitted
-
Get engineering certification and WOF
-
Washer bottle relocation
- Battery relocation
- New boost guage (with super extra fancy sensors. Will definitely happen before the following tasks as it requires fitment of extra sensors)
- get A/C fixed (probably just needs gas but not high priority)
- Fit oil relocation block, oil cooler and braided oil supply to turbo
- Braided water lines to turbo, water neck spacer, new radiator and hoses
- Rigidity mods
- New fuel rail and FPR
- Roll guards
- Coilovers (probably with wheels at same time as I want it to fit nice and good - and here in NZ it requires an instant certification)
- Fix crack in bumper
- Link plug-in ECU and TUUUUUUNNNEEEEEEE!!!!!!!!!!!
- Engine bay de-loom
Subscribe to this mofo and keep up with the progress. Ask questions too (after I've done stuff) because I'm happy to let people learn from my mistakes.
Oh yea and drop advice on things you see wrong too. I'd hate to screw things up
Last edited: