Yeah yeah, so it's a bit sad... but I spent my BH Monday painting a brake caliper! And I thought I'd share some pics with you as well as some helpful tips on what not to do! I used a folia-tec brake caliper laquer paint kit (Halfords, ?24). Source these from the net if poss, will be cheaper :nod: .
I started by removing the wheel and cleaning the caliper with the supplied cleaning spray. I used a green-sponge scouring pad thing (on top of the caliper in the pic). I've used a wire brush before on really dirty calipers but if yours are clean then the sponge thing should suffice with a bit of elbow grease)
Next job was to paint around the "Nissan" lettering on the caliper, as I wanted to paint the lettering a different colour. This job requires a very fine brush and some patience. I'm not blessed with patience sadly
so my efforts are a bit messy: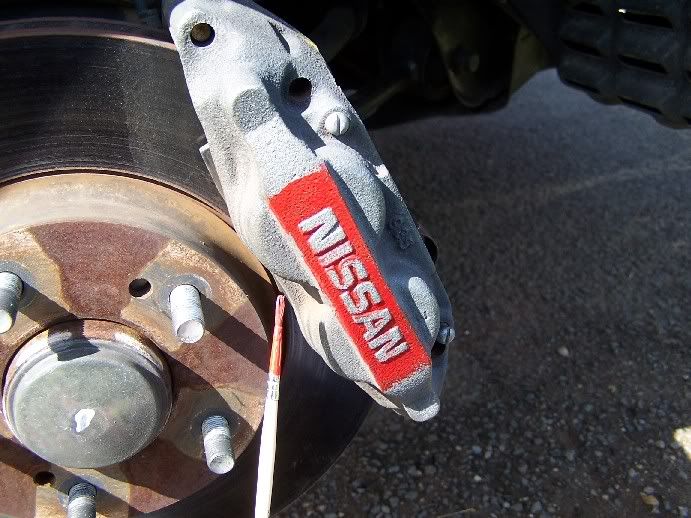 As soon as this job is done, use a bigger brush to paint the remaining parts of the caliper. It would be possible to remove the caliper and paint it inside and out. I personally don't bother as A: it means stripping the brakes off etc and there's no guarantee I'll get it all back together again!
and B: Surely you only need to paint what's visible?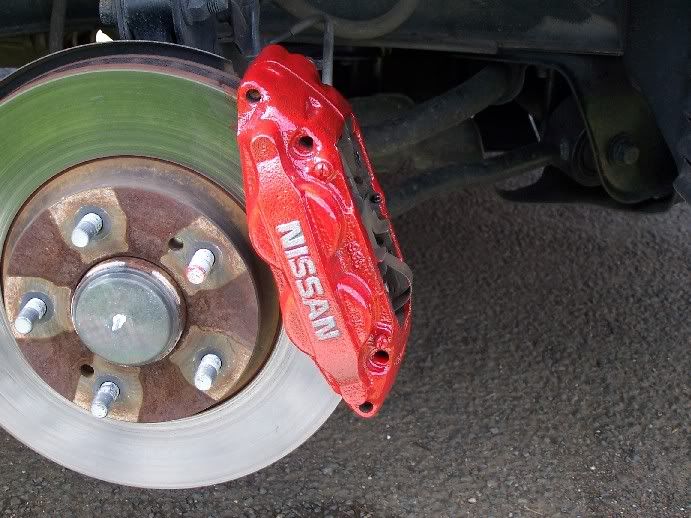 Repeat the previous two steps... the instructions recommend 2 layers. Jono recommends at least 3. I put two layers initially but yu can still see the metal showing underneath. I ended up adding quite a thick 3rd layer a few hours after the first two layers had set.
The next job is to paint the lettering. I've used Smooth Hammerite (White). Take my advise - use a little thinner to thin the hammerite down a bit... i's too gloopy and thick for such fine detail and I ended up with stray strands of the paint drifting around the caliper
And if you thought you needed patience to paint around the letters, that was nothing! This will test your cool to the limits :rant: . Once again, I aplied 2 layers of the hammerite and this seemed to suffice. Here's the end result:

Not a bad effort. I may go around the lettering in red one more time just to tidy some of the edges but unless you're up close scrutinising the job... the slight errors don't really show up - it looks good from a few feet away. Certainly the second caliper will be quicker and easier now I've learnt from the first.
Hope you like!