About time for a build thread
I got the car off Lynny up in Doncaster in November 2010 when I was 20.
I never thought I would be that bothered by having a sun roof but I love it.
In tuning and modifying I'm now going by the principle 'do it once, do it properly' approach. Why waste time and money a second time.
Car when it was imported in 2009 by Torque GT, starting UK life with Lynny for a year and a bit.
(picture of standard white S15 that doesnt want to upload, probably my fauly)
It had very few things needing doing to it when I got it. Some paint was peeling on the roof but that is really about it. All that wasn't standard was a 5Zigen cat-back, Blitz filter and Splitfires, and a horrible rear bumper that didn't last long. Managed to transport a new front and rear bumper in the car, with a passenger, with the bumpers poking ou tof the sunroof and boot at the same time. Only have to drive about 300 miles that day. Wished I took a photo!
First mod was to fit RLTC to keep me out of trouble as it is a daily. Good bit of kit that, probably not doing my rwd skills many favours though.
Engine bay started as this, with a leaky front crank seal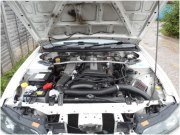 Much better now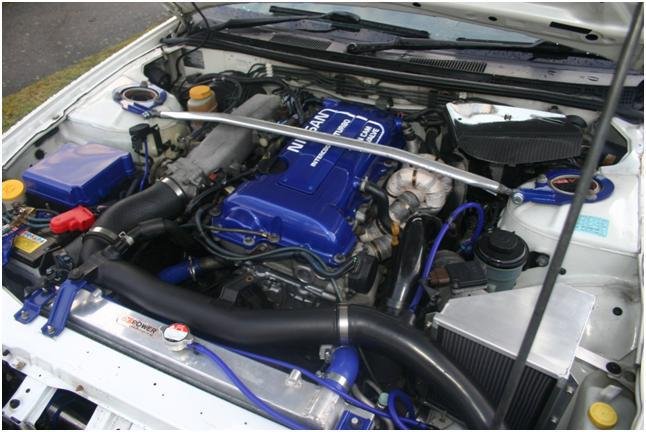 5Zigen exhaust had rusted through so I swapped it for a Blitz Nur Spec RX, wrapped Apex downpipe, and wrapped SIS?? Elbow and manifold (whoever they are made by they are cracking quality as Fasthands can attest to, comparable to his Tomei J Braided oil and water lines while I'm at it too. That seems to be my big excuse for buying more things.
To complete the exhaust system I have a sports-cat waiting to go in when I get a wideband + boss welded in.
Induction wise, the ARC type box looks great and I have a GReddy intercooler to fit once I get some custom piping sorted for it as it is going in upside down. At that point I will try and knock up a cold air intake out of fibreglass once the old boost piping is out of the way, plus fit the HKS adjustable actuator I also have waiting for a boost increase.
When the chance came to pick up a pair of Sparco Milano 2's plus harnesses for £100 I snapped them up, got Bride rails from Nungun at fitted it all. After getting hacked off by the harnesses I changed my mind and have now had my front seatbelts re-furbished in blue, and removed the rears.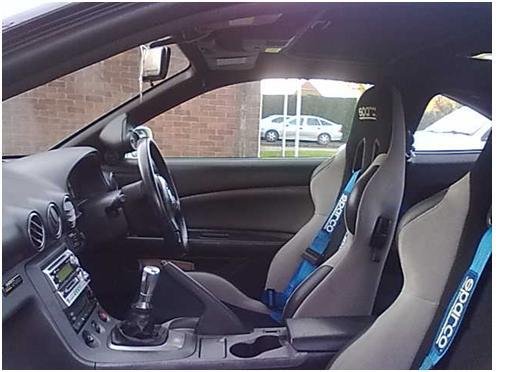 As you might see here, front brakes swapped with refurbed R32 GTR Non V-Spec (296mm) and rears from an R34 GTT (297mm) with an R33 GTST BMC. Braided lines all round. Very good net result, much better than re-furbing rears (been there twice and didn't go well for me)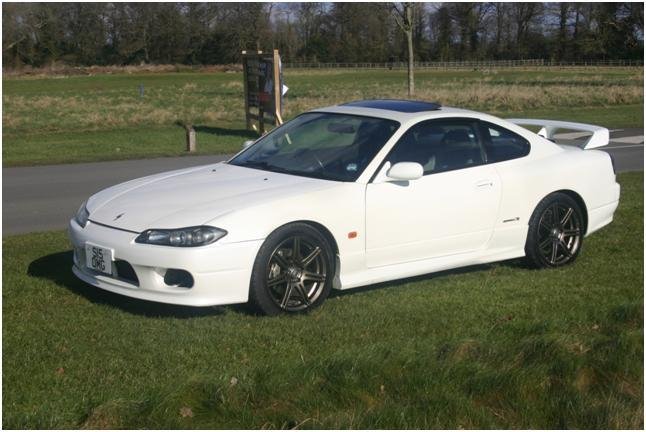 I got some carbon wing mirror covers from EP Racing they were flogging off. At the same time I wrapped the rest of the mirror cover and root black to hide all white.
With Japfest looming and my holiday cancelled I found myself with alot of time. While browsing Nengun I found Yokohama Super Advans... and now I have a full re-furbed pearl white set. They are 17 8j et35 front, 3mm spacers to clear calipers and 18 9j et42 rear. I think 17's + 18's makes a nice subtle touch.
Last edited: