Joined

31 August 2006
Messages

124
Reaction score

0
Points

16
Location
Hey guys,
I?m looking at purchasing a set of 18? 'Works Meister S1? rims for my ?99 S15 Silvia, however I am unsure as to what sizes/offsets would be best suited. I do not want to negatively compromise the handling and/or steering of the S15. Here is a pic for reference: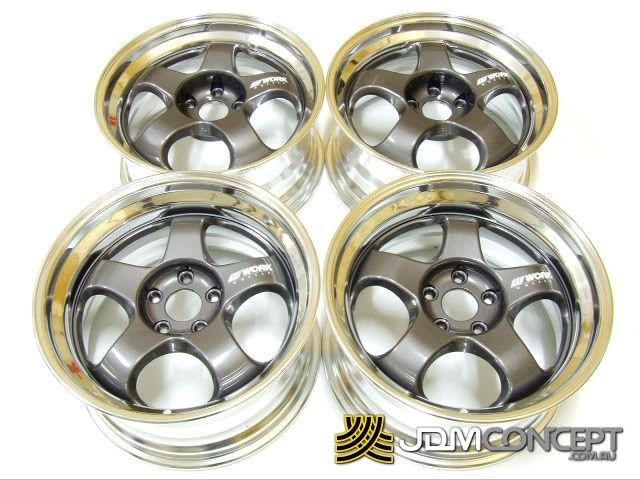 According to S15 Owners Club the standard S15 rims are 16 x 6.5 with a +45 offset (
http://forum.s15oc.com/viewtopic.php?t=576
) The same thread has a number of recommendations supposedly made by manufacturers such as Works, Rays, Nismo and so forth. According to the thread these are the recommendations made by Work:
18 7.5 +32 Recommended by Work
18 7.5 +35 Recommended by Work
18 8.5 +45 Rear Recommended by Work
JDM Concept the official Works distributor in Australia has the following recommendation for Meister S1?s on the S15:
5 X 114.3, 18 X 8.5 - OFFSET +30 (A DISK)
5 X 114.3, 18 X 8.5 - OFFSET +30 (A DISK)
5 X 114.3, 18 X 9.5 - OFFSET +35 (O DISK)
5 X 114.3, 18 X 9.5 - OFFSET +35 (O DISK)
Do these sizes sound correct? From what I?ve read the guards of the S15 need to be flared in order to accommodate 8.5? wide rims, yet they list both 8.5? and 9.5?.
Later down the track I am looking to purchase a Vertex Ridge widebody kit, and I?m not sure as to how much it flares the guards. I don?t want rims that are going to look out of place and sit too far in/out of the guards. I am not willing to use spacers.
What are people opinions on sizes (width) and offset for 18? rims on the S15 keeping in mind that I want to minimize loss of handling and/or steering as much as possible with 18? rims? Sorry for the long first post and thanks in advance!